Publication Process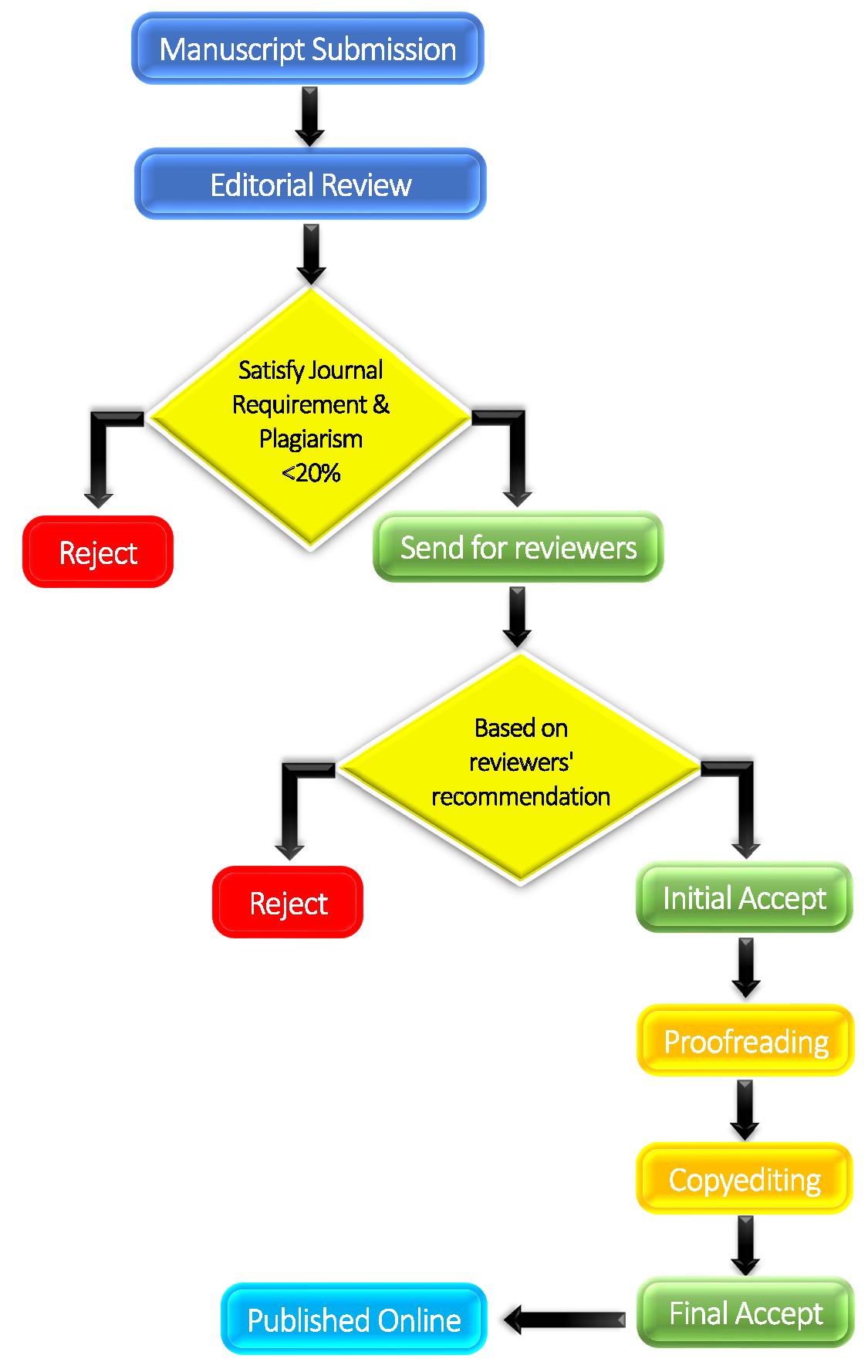 This journal uses the Open Journals Systems (OJS) software for management and publishing support distributed by the Public Knowledge Project under the GNU General Public License. This journal uses the Open Journals Systems (OJS) software for management and publishing support distributed by the
Public Knowledge
Project under the GNU General Public License.
Management Structure
Editorial Process
OJS moves submissions to the journal through five steps in the editorial process, which will be managed by one or more of the editors:
1. Plagiarism: The submitted manuscript is subject to plagiarism check, and if the percentage of plagiarism is within the specified percentage. Then manuscript will moved to the next step.
2. Unassigned Queue: Items begin here and are assigned to one or more editors.
3. Submission Review: Items undergo peer review and editorial decision.
4. Submission Editing: Items undergo copyediting, layout, and proofreading. The submission is assigned to an issue for publication.
5. Table of Contents: Items are ordered for publication and are published.
Editorial Roles
(Assigned in Journal Management)
• Journal Manager: Sets up the journal and staffs editorial roles (can also serve as an Editor and other roles).
• Editor: Oversees editorial process; can assign submissions to Section Editors to see through Submission Review and Submission Editing; undertakes scheduling of content and publishing of journal.
• Section Editor: Oversees Submission Review and possibly Submission Editing for assigned submissions.
• Copyeditor: Works with submissions to improve grammar and clarity, poses questions to author on possible errors, and ensures strict adherence to journal's bibliographic and textual style.
• Layout Editor: Transforms copyedited submissions into galleys in PDF format.
• Proofreader: Reads galleys for typographic and formatting errors.